Bigleaf's Standard High Availability service has two default LAN connections: a connection to the primary Bigleaf router and a connection to the secondary Bigleaf router. You need to deploy your own switches if your requirements are not met by the two default LAN handoffs.
This article provides information about using Bigleaf's Standard High Availability service plans with your own switches in these instances:
Port density configuration when using three or more LAN handoffs
Using a link aggregation group (LAG) as a single port
Port density configuration
For port density, you may use your switch, managed or unmanaged, as long as it supports Spanning Tree Protocol (STP) which is used to prevent switching loops within a network topology. Bigleaf provides the two LAN handoffs in the same broadcast domain, so STP must be enabled on the switches you plan to use.
You can connect both LAN handoffs into the switch, and any ports in that VLAN (if used) will have access to the default Gateway IP address shown in the Site Configuration page in the Bigleaf Web Dashboard.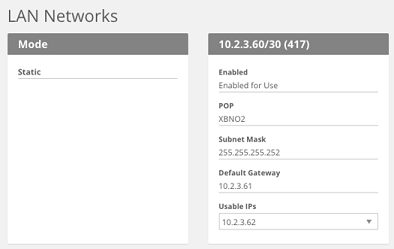 You may also use two switches, one for each of our LAN handoffs, to provide port density. It may seem like you're not utilizing full redundancy, but rest assured that each switch is able to forward frames to each of the primary and secondary Bigleaf routers. This is possible by the required AUX-to-AUX connection that is part of the installation process.
Using LAG
LAG is a method of grouping multiple ethernet ports into a virtual link with aggregated bandwidth. The system treats the set of ports in a link aggregation group as a single port. LAG can't be used over the two default LAN handoffs Bigleaf provides to you with our High Availability service. They are strictly non-LAG ethernet handoffs.
To use LAG, use a switch that supports LAG, and make sure that STP is enabled on the switch. From there, you can connect each of our two LAN handoffs into the switch, or switch stack. Then, configure LAG on your switch to connect to other devices on which you want to use LAG.