Upgrading from the Essential (Standard Availability) or Warm Spare tier to the Premier (High Availability) tier is easy. There are just a few steps to get the process started.
Review the Premier plan features to make sure they fit your needs.
Reach out to your Bigleaf Sales Representative, or go to the Bigleaf website and request a quote.
The Bigleaf Sales Representative will work with the Sales Support team to begin the upgrade process. The Sales Support team creates an amendment to your current plan with Bigleaf and will reach out to you to explain the new pricing and equipment you'll need.
Your plan change is processed when you accept the new plan and you'll receive new site and IP addresses and Bigleaf routers from our provisioning team.
Things to keep in mind when upgrading
Upgrading from a /30 IP block
The Premier tier includes 2 Bigleaf routers and requires a /29 IP block or greater. If the site you're upgrading has a /30 IP block with a single Bigleaf router, the Bigleaf Sales Support team will provide the new /29 IP block as part of the upgrade sales order. The new IP addresses will be provided to you during the provisioning and shipment of the new Bigleaf routers.
Upgrading from a /29 IP block
If you currently have a /29 or larger block, Bigleaf Support will move your current IP block to the new Premier site. This is typically done when ready to migrate to the new Premier site and decommission the Bigleaf router from the old site.
When upgrading and keeping your /29 IP block, you need three IP addresses from the existing IP block: two for the Bigleaf routers and one for the default gateway. By default, in a Premier setup, the first 3 sequential IP addresses are used by the Bigleaf routers and default gateway. But when using existing IPs, those first three IP addresses are likely already used on other devices at the site. Bigleaf Support can help you configure the Bigleaf routers to use available IP addresses from your existing /29 IP block during migration.
Adding a new Bigleaf Premier site
If you add a new site that's using a Premier setup, you'll receive two new Bigleaf routers that are provisioned under the new site's name in the Bigleaf Web Dashboard. The new site is listed in the Dashboard when you receive a notification that the routers have shipped.
Connecting the Bigleaf routers in a Premier tier setup
The Bigleaf routers using the Premier tier should be connected to all ISPs.
_______________________________________________________________________________________
Diagram 1 – Basic Premier setup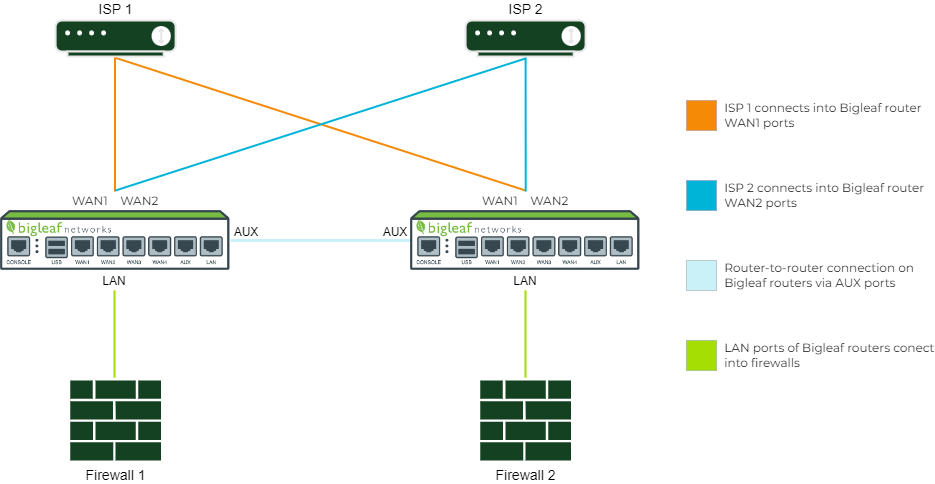 _______________________________________________________________________________________
Diagram 2 – Premier setup with LAN switch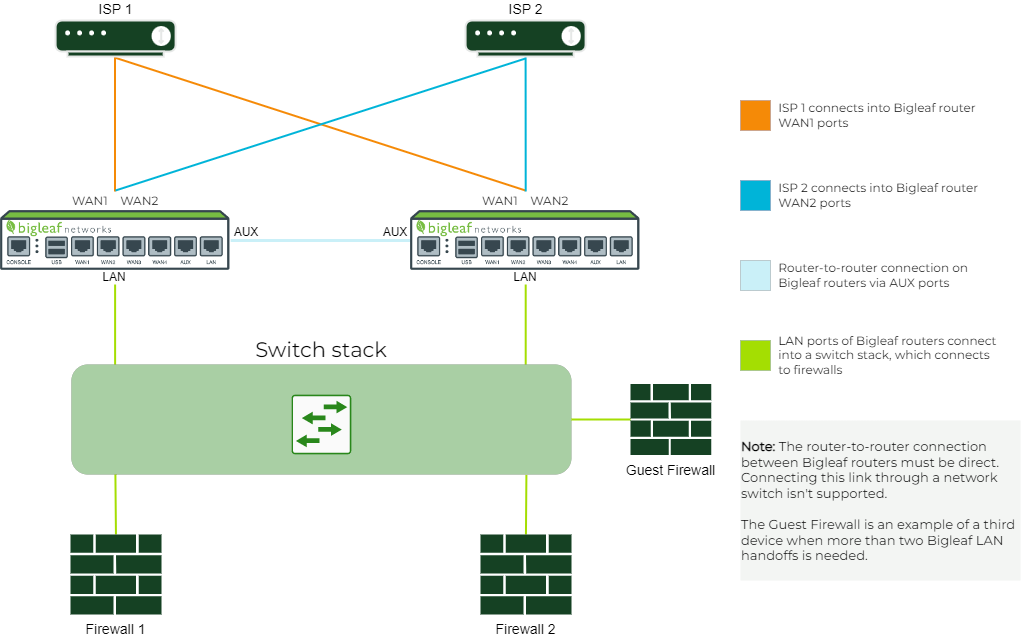 _______________________________________________________________________________________
Diagram 3 – Premier setup with a simple ISP switch