Alerts about your network can be a life saver, or a huge annoyance. It all depends on how they're set up for your particular needs. The Bigleaf service includes a variety of helpful alerts that monitor your circuit usage and events, and notifies you if something is happening that you need to be aware of. Alerts also offer a peace of mind that if you're not receiving them, all is well.
Bigleaf alerts are delivered via an email, so it's helpful to set up the type of alerts you want to receive so you're not bothered by alerts you aren't interested in. For example, an IT administrator may want more alerts regarding circuit status and performance than a different user may want.
After using the Bigleaf service for a while, you may need to adjust the alert notification settings to better fit your environment and risk tolerance level.
Where to find information about reported alerts
Alert details show up on the Bigleaf Web Dashboard's Overview tab as Risks.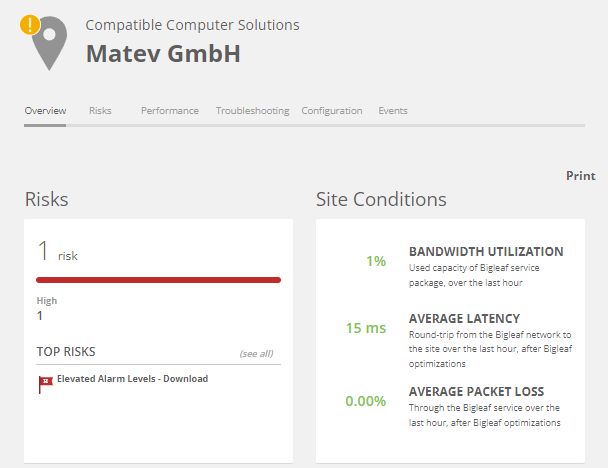 Selecting the Risks tab shows more information about a specific risk, and the actions you can take to mitigate it.
How to change when you receive alerts
Risk alert settings can be changed for individual user accounts so that a particular user can set their own alerting frequency.
User account risk tolerance levels
Risk tolerance is a measure of how sensitive a site is to connectivity/traffic conditions and is used to determine how quick a risk will get triggered. There are the four levels of risk alert tolerance for user account alerts. Below are the levels with an example of what might cause each alert (there are additional reasons a specific alert may be triggered):
| | |
| --- | --- |
| Risk Tolerance | Example |
| 1 - Low | Only one circuit is configured, and the site would go down if something happened to that circuit. |
| 2 - Medium (default setting) | 70% of bandwidth cannot be serviced with existing circuits. |
| 3 - High | Losing one or more circuits that results in using the final circuit available (only one circuit is up). |
| 4 - Site Outage | There is no LAN connectivity; all circuits are down. |
Change user account alerts
Log in to the Bigleaf Web Dashboard and select Account along the top of the window.
In the Alert Settings panel, make sure Disable Alerts is unchecked.
In the Alerts section, specify the Email address where alerts should be sent, and the Risk Threshold for the types of events that trigger an alert. The lower the risk threshold, the more alerts you will receive. If you're receiving too many alerts, set this option to a higher threshold.
Select Show Advanced Options for more settings:
Email format – Select the email format type for the alert.
Alert Delay – Specify how long the risk occurs before the alert is sent to you.
Re-Notification Freq. – Specify how often an alert should be resent if the problem is ongoing and has not been resolved.
You can set up more than one email address the alerts are sent to by selecting the New Alerts Destination panel and entering the email and settings.